Priced from R1,075.00
The Jay Basic is an ultra-lightweight, low maintenance, entry-level cushion. It consists of a mildly contoured, beveled base and a moisture-resistant cushion cover. The mildly contoured base provides some postural support, whereas the beveled base keeps the foam level on a sling seat surface. The cushion cover is moisture resistant, prolonging the life of the cushion.
At a height of 5cm, the Jay Basic cushion is practical cushion for any individual needing a low cushion that can provide comfort with some postural support.
The Jay Basic Cushion Cover is moisture resistant. This allows it to assist with incontinence management by protecting the foam base from moisture build-up. Prolonging the lifespan of the cushion. The cover also has a no-slip surface, allowing it to remain in place during transfers and general usage.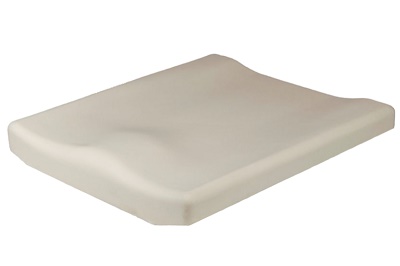 This foam base is mildly contoured to provide support and increase sitting tolerance. The bottom of the base is beveled, allowing for the wheelchair seating surface to remain level, improving pelvic alignment over time
Highlights
· lightweight – 0.77kg
· Low maintenance
· Washable with soap and water
· Cushion Height of 5cm
· Max User Weight of 110kg (14″-20″) and 135kg (22″-24″)
· Mildly contoured, beveled foam base
· Moisture-resistant cushion cover