The most common advice medical professional's offer after a broken foot, ankle sprain or knee injury is to keep the injured area elevated and get as much rest as possible. For many of us, staying of our feet just isn't an option: there are household tasks to perform, routine duties at the workplace and other daily chores that require us to stay mobile.
There was a time when solutions to this problem were uncomfortable medical boots, or worse, slow and cumbersome crutches. Thankfully, with the aid of knee scooters/knee walkers you can stay active and productive throughout the day with ease.
5 advantages on the knee walker:
Maintain Good Posture
When you use a Knee Walker you're staying in an upright natural position, with your shoulders back and your standing leg continuing in a comfortable stride. The often-unnatural contortions that crutches require can cause soreness and stiffness all over the body.
Helps Recovery
As mentioned, one of the first recommendations a doctor will make after a leg or foot injury is, keep it elevated. The Knee Walker provides a comfortable padded seat where you can securely rest your knee. This will prevent it from bearing weight and protect it from accidental bumps and scrapes.
Range of Motion
The Knee Walker is a finely tuned, highly versatile device. The handlebars provide good directional control, and walkers such as the all terrain Knee Walker can cover all surfaces whether even or uneven; grass, gravel, or dirt, easily. The ease and range of motion helps you feel confident in moving around without worrying about falling over or losing balance, which is one the main concerns when it comes to crutches.
Helpful Storage
Moving around on one leg is hard enough, even when you don't have anything to carry. But when you take away free use of your hands as well, it can really get tricky. Thankfully, many models of the Knee Walker come equipped with a basket to help you carry around books, groceries and other items while you're on the move.
Speed and Ease
Propelled on 4 wheels, you can cover large distances over a relatively short period of time. One of the great difficulties you'll face with crutches is the amount of time and efforts it takes to walk even small distances. The Knee Walker is fast and efficient and will help you save vital energy for your recovery.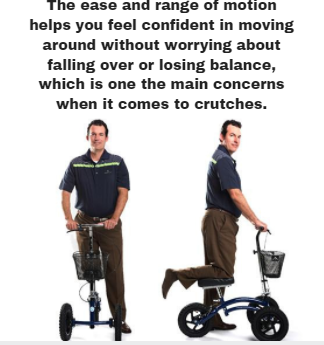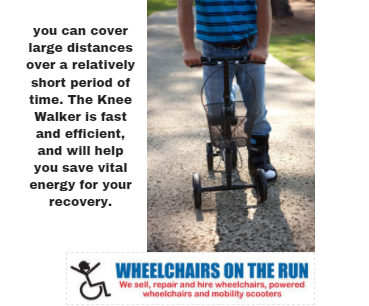 Specifications
Diameter from
rear wheels 20.3cm
Distance between handles
41.3cm
Height
Height of handle 85.5-105.5cm
Length when folded
75cm
Overall depth
75cm
Seat height
47.1-57.3cm
Width
41.4cm
Width when folded
41.4cm
Special Features
Maintain Good Posture Helps Recovery Range of Motion Helpful Storage Speed and Ease
Weight Capacity
136kg
Nett Weight
9.08kg
Overall Width
41.4cm
Tags: Walking Aids, Walkers, Rollator